21 May 2018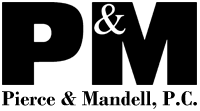 Pierce & Mandell attorney Lena Finnerty recently won summary judgment for the firm's architect client in a case involving a slip and fall at a local federal government facility.
The firm represented an international architectural firm in a case involving a federal government employee who fell in the indoor "winter garden" of her employer's large facility. Plaintiff alleged that she fell on pea stones that had migrated from the garden area onto the walking paths. The allegation against the firm's client was that it was negligent in designing the winter garden by including pea stones as a feature.
The basis for the summary judgment motion was that plaintiff did not offer an expert witness to testify that designing the winter garden using pea stones violated the standard of care.
Founding partner Bob Pierce was lead counsel on the case for the architect, but Lena Finnerty wrote and argued the summary judgment motion. "I am so proud of Lena having developed this basis for a summary judgment motion and winning this dismissal for the client. This was tremendous work by Lena on behalf of the client and Pierce & Mandell."
Pierce & Mandell is well known for defending every type of product liability, personal injury and construction defect case.