Giving Back
Since our founding in 1995, Pierce & Mandell, P.C. has adhered to three principles that have guided our success: Attract the best attorneys and professional staff; provide our clients with sound advice and deliver great results; and commit ourselves as a firm and as individuals to support the work of non-profit organizations that make a difference in people's lives.
We are proud to have been able to support many worthy organizations over the years, particularly those with a focus on serving underprivileged children. Here are just a few of the charities that we support, and we encourage others to support as well.
The Eddie & Alyce Mandell Memorial Scholarship Fund
Close to our heart at Pierce & Mandell is a scholarship fund that supports hardworking and gifted Boston high school students who cannot afford the price of college.
Originally named for founding partner Bill Mandell's father, Eddie, who was not able to attend college and tried to help kids with their dream of a college education during his lifetime, the Scholarship Fund raises money to fund college scholarships for graduating Boston Public School seniors.
In 2018, the Fund was renamed to also honor the memory of Bill's late mom, Alyce, who was a co-founder of the Scholarship Fund.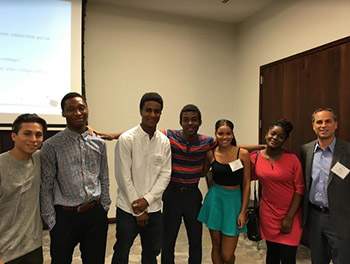 Bill Mandell, and his son Eddie, with the 2017 Eddie Mandell Scholars
"While he never had the financial means to attend college, my dad felt that education was the great equalizer in our society, and that a college education was of vital importance in opening up the doors of opportunity, fulfilling one's dreams and becoming fully enfranchised in American society," says founding Pierce & Mandell partner Bill Mandell about his late father Eddie. He added, "my mom, Alyce, shared Eddie's generosity, and they both firmly believed that all kids can achieve their dreams if they have access to a college education."
Since its establishment in 2000, the Eddie & Alyce Mandell Memorial Scholarship Fund has raised and distributed over $100,000 to students in direct scholarships through uAspire and has changed lives that might not have found a college track and a road to better future.
For more information and to donate, please visit www.emandellscholarship.com
Ron Burton Training Village
Ron Burton played just five years in the NFL after becoming the first drafted player in 1960 for the newest team in the league, the then Boston Patriots. And though at least one of his Patriots' records still stands today, Ron's true legacy is the Ron Burton Training Village (RBTV) which he started 30 years ago in the central Massachusetts town of Hubbardston. More than 4,000 youth have attended the five-week summer camp, the majority of whom are from economically disadvantaged and at-risk situations. No one is turned away because they cannot pay, and participants come away with a renewed focus on education, social skills, morals, values, leadership and fitness.

Pierce & Mandell joined the many companies and organizations that support RBTV after Partner Bob Pierce attended an event and recalled how impressed he was with the young man at his table who greeted him with a firm handshake and direct eye contact. Here's how you can join Ron Burton's team http://www.ronburtontrainingvillage.org/
Children's Law Center of Massachusetts
Created in 1977, the Children's Law Center of Massachusetts is a 501(c)(3) charity that provides free legal assistance and related services to low-income children of the Commonwealth in child welfare, education, special education, mental health, juvenile justice, and immigration matters.

The Law Center maintains a statewide phone helpline through which it logs 1,200-1,500 calls per year from parents, children, attorneys, and professionals seeking assistance and guidance on legal matters that impact children. Information and referrals are provided through the helpline. The number is 1-888-KIDLAW8 (1-888-543-5298). Issues routinely addressed include children who are out of school or not receiving the educational services to which they are entitled under federal and state law, emancipation, immigration, the rights of children who have "aged out" of foster care or other state human service systems, and the collateral consequences of juvenile court involvement.
Pierce & Mandell, P.C. supports the Children's Law Center's legal advocacy on behalf of low-income children with an annual gift, and we urge others to also consider a tax-deductible donation. Learn more at http://www.clcm.org/